You may remember a few months back (you know, when I was actually a blogger) I mentioned that I made the decision to move home while we waited for a closing date for "our" house. After a serious of unfortunate events we never ended up getting the house. A few months have passed since my house hopes were shattered. During that time, my life has drastically changed, which made me realize that losing the house was actually a blessing in disguise. Long story short, I'm still shacking up at the parentals until the holidays are over and I can get serious about searching for new abode.
Living at my Mom's house at the age of 27 is obviously not ideal for many reasons. Getting us to agree on one TV show has next to impossible. And since I've been too lazy to set up the TV in my room, I'm thankful to have Bright House TV to keep me company. Lets face it, nobody comes between me and my Real Housewives!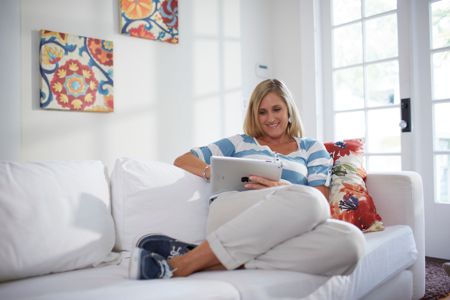 With Bright House TV, you can
Make Any Room a TV Room!
BHTV allows customers to view many of the channels they receive as part of their cable TV service through Bright House Networks on their iPad, iPhone, Android device or computer. What that means is that I can start my guilty pleasure of reality TV in the living room and when I'm exhasuted, I can pull it up on my iPad to finish the show in the comfort of my own bed before passing out.
Bright House TV currently has 250 channels with more being added every month. Did I mention this is a free service that comes with your cable TV service if you are already with Bright House? All you have to do is be within the range of your home's wireless network.