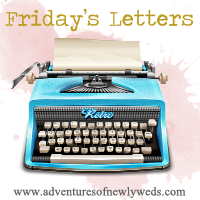 Dear Weekend, I'm so excited for you. You will be the only weekend I get to stay in town for in the past few weeks and the coming weeks. I'm thrilled to be able to relax but now I feel odd because I've been avoiding making plans.
Dear Mornings, Why can't you go a bit easier on me? You know, make them not start until 8:30 or something. Leaving the house at 7:15 is not ideal.
Dear Nails, Why won't you paint yourselves? And, why must you always chip 15 seconds after I paint you? I need to invite super polish, similar to super glue, where the paint will not come off. Shellac just doesn't cut it for me.
Dear Hair, Why are you taking so long to grow? I would really appreciate you growing at least 4 inches in the next 2 weeks. Too much to ask?
Dear Tires, After getting a new set 3-weeks ago and then another why last week, why do you feel the need to go flat again? What am I missing?
Dear Mean People of the World, Why do you exist? I'm not speaking of anyone in particular, just all the cruel people who harm innocent people, especially children.
Dear Landyn, You make my world go round, I'm so lucky to have you.
Come join in on the fun here!